Latest
Subscribe to posts
Report from Museum Chairman Christine Walton
 Many thanks to those who attended our 48th AGM on 14th November - only another two years and we'll be celebrating our 50th Anniversary !

The newly elected Committee comprises:
Christine Walton (Chairman)
John Smith (Treasurer)
Helen Rogers (Secretary)
Amanda Davidge (Curator)
Deborah Clough (Window Display Co-ordinator)
Peter Best (Publications Co-ordinator)
Tremar Menendez (Advisor)
Maggie Lancaster (member).
A letter of resignation was received from Caroline Surgey (Steward's Co-ordinator). As no nominations were received in time for the AGM, this role remains vacant. Our very sincere thanks to Caroline for her valued contribution.
Key roles outside the formal committee structure are as follows:
Keith Southgate (Webmaster)
Celia Robbins (Oral History Project Recorder)
Ian Gillett (Publications)
Mick Clough (Design/Publicity),
Gill Parsons (Family History)
Kitty Chanter-Menendez resigned from her position as Heritage Walks Co-ordinator, a role she has conducted very efficiently and professionally. We welcome Mary Jones as Kitty's successor,supported by the team of excellent Walks Guides: John Pegg, Derrek Hines, Shelley Barratt & Geoff Barratt.

In addition, Paul Sweet (Accounts Auditor), Bryony Robins (Museum Development Officer), Dr Joanna Mattingly (Museum Mentor), Helena Jaeschke (Conservation Development Officer), and Jo Moore (Curator Wheal Martyn Museum), were all thanked for their professional support.
Thanks were also given to:

The Heritage Lottery Fund and Cornwall Museums Partnership for their £1100 Cornwall Heritage Awards donation
The Duchy Estate for £100 contribution towards the printing costs of Ronnie Puttock's book, 'Walks Around Lostwithiel'
Lostwithiel Plant Swap for £50 donation towards new signage outside the Museum
Julia Parfitt for maintaining our planter
All our window display sponsors - Black Dog Antiques, Trewithen Restaurant, Asquith's Restaurant, Iteracy, Harmony Cottage, Children's Clinic for Cornwall, Mellingey Cottage, Lost in Books, MKM Extrusions
To the businesses selling the Walks book and the 2019 Calendars -Lost in Books, Watts Trading, Duchy Nursery shop, Choughs, Uzella Court;
Lostwithiel Business Group;
Chris Mansfield for improvements to the Museum reception area;
Roy at Palace Printers;
Debenie Morse, Lostwithiel Newsletter;
all contributors to Museum Matters;
members of Lostwithiel Museum Association.
Not least, my enormous thanks & appreciation go to our Museum Stewards, Trustees and Committee members who contribute so much to making Lostwithiel Museum thrive and flourish
. Finally, we must not forget our visitors!
We hope that you have been able to take advantage of our guided Town Heritage walks. A special thank you to Kitty Chanter-Menendez & her excellent team of Guides : Mary Jones,  John Pegg, Derek Hines, Shelley Barratt & Geoff Barratt for sharing their extensive knowledge of the town & it's fascinating history. The regular Monday walks have now finished for the 2018 season.
The museum closed to visitors at the end of October & will re-open in early April 2019. We will, however, look forward to seeing you when we open specially for Lostwithiel's Dickensian Evening on Thurs 13th Dec. The winter closure period will provide us with a welcome opportunity to continue with a number of special 'behind the scenes projects' in readiness for the new 2019 season. This year we have started to make a number of significant improvements to the museum, not least the new reception area, which are only part-way through an exciting transformation exercise. We will keep you updated as the works proceed over the next few months.

 Although the museum closes for this season at the end of Oct we are looking for volunteers who might be interested in the various 'behind the scenes' activities available during the winter months.

For more information, please contact Christine Walton on 01208 871456.

A warm welcome to Peter Turner who recently joined us as a Museum Steward on Friday afternoons.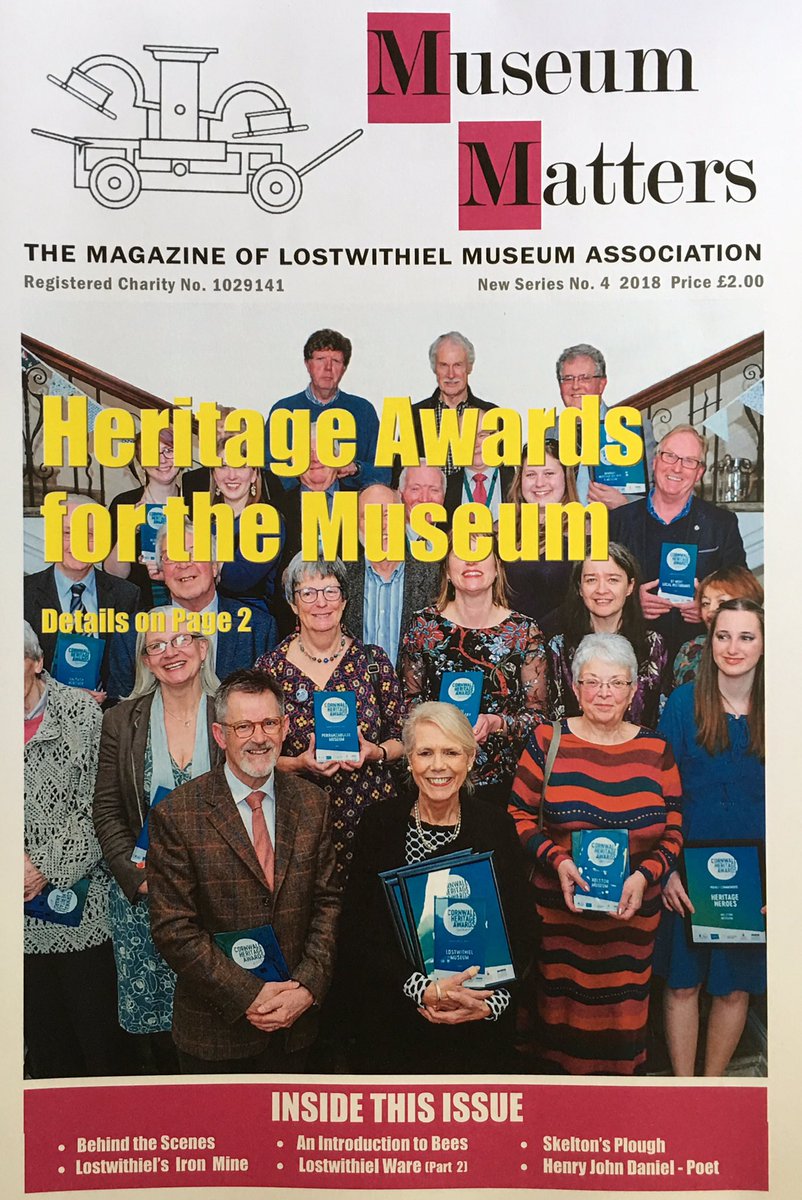 The in-house magazine, Museum Matters, is now being circulated to members of Lostwithiel Museum Association who automatically receive a free copy. Additional copies are on sale in the museum for £2.
The current issue features articles on: The Cornwall Heritage Awards; The Restormel Royal Iron Mine; Lostwithiel Ware: 600 Years of Pottery; Henry John Daniel, Cornish Poet; Skelton's ''Reversible Plough;'' & An Introduction to Bees.

If you have an idea for an article or would like to contribute in any other way please contact Peter Best on 01208 872303.
:Suffragist or Suffragest ? Which one would you have been ? It's an interesting question which we hope will inspire a few debates amongst you. This major new display features The Great Pilgrimage of 1913 when an estimated 50,000 women marched lawfully & peacefully from Lands End to London in the quest for Votes for Women.
The Suffragists belonged to the NUWS [National Union of Women's Suffrage Societies 1896-1918] whilst the Suffragettes were affiliated to the WSPU [Women's Social & Political Union 1903-1918]. Lloyd George, the then Chancellor of the Exchequer, said the march was one of the cleverest political moves ever organised.
It was 5yrs later in 1918 when the campaigners won the battle & women over the age of 30 had the right to vote but only if they were householders, wives of householders, property owners or university graduates. It was to take another 10yrs for universal franchise to be granted in 1928 to all women over the age of 21. This was 15 yrs after The Great Suffrage Pilgrimage & the height of Suffragette action.

The story is a compelling one so we hope you will pause a while & take the opportunity to discover more about the incredible achievements of these amazing women to whom we owe so much. Our thanks & appreciation go to Amanda Davidge & Rebecca Bettin from
Lost in Books
, now based in Black Dog in Quay St, for their generosity in sponsoring this window display.
If you are not in the Lostwithiel Area then many of the photographs used in the display can be seen on
our flickr page
.
We are looking for 3 volunteers to welcome visitors to the museum on Wed,Thurs & Fri from 2.30 to 4.00pm until the end of the season which is the 27th Oct. No previous museum experience is necessary as help will be provided.

This role is an excellent way of getting to know the town, the museum & the many interesting visitors who come to us from all parts of the world. You may have recently moved to Lostwithiel & want to learn more about it's fascinating history.......what better way !
If you think this role might be of interest but need more information please don't hesitate to contact : Caroline Surgey [Stewards Co-ordinator] on 01208 367325 or Christine Walton [Chairman] on 01208 871456.
==================================
 We are also looking for volunteers to fill a variety of other roles behind the scenes, ones that do not necessarily require a regular commitment. Some of these tasks could be done in your own home or at the museum, whichever is most appropriate.

Having the museum office back gives us much more flexibility in what we can offer to volunteers & the way we operate.

The tasks currently on offer include:
helping with publicity
working with young people
organising social get-togethers for volunteers
compiling scrapbooks of cuttings of local events & activities
creating project files about people, places & events
researching & writing for the Museum Matters magazine & adding to our in-house range of pamphlets;
helping with research specifically related to an enquiry
helping to organise displays or exhibitions
digitising photographs
fundraising [anything from a coffee morning to a major event]
caring for the collection of artefacts
re-labelling items in the display cabinets
monitoring availability & sales of pamphlets/books
general maintenance jobs [anything from changing a lightbulb to dusting].
We have lots to offer & can tailor an idea specially to suit your interests. Please contact Christine Walton on 01208 871456 if you're interested in any of the above or have an idea you'd like to share with us.

With time to spare during the long summer break a visit to your local museum is a definite 'must do' option & FREE admission ! Come and meet our miniature characters by taking part in our Heritage Award Winning Children's Trail, specially designed to help our younger visitors explore the museum in a fun way. We look forward to welcoming you to the museum very soon.
 Next time you visit the museum you will see that the Steward's area is undergoing a much-needed makeover. Stage 1 of this process involves a bespoke desk area which is much more stylish & functional. The volunteer Stewards do such a splendid job in helping our visitors & deserve to have a much more attractive & comfortable base. Our thanks to Chris Mansfield [TBM & son] for executing a very professional piece of work. Look out for Stage 2 !
The 4th issue of Museum Matters is at the final proof-reading stage so will soon be in circulation. Members of the Lostwithiel Museum Association and museum volunteers will automatically receive a copy.Additional copies will be available for £2 from the museum, Stick in Queens St, Watts Trading & Choughs in Fore St.

Issue 4 includes articles about the Cornwall Heritage Awards, The Restormel Royal Iron Mine, Lostwithiel Pottery [part 2], Skelton's 'Reversible' Plough, Henry John Daniel [Cornish Poet], and  an Introduction to Bees. We are always on the lookout for contributions to the magazine so if you have an idea for a future issue then please contact Peter Best on 01208 872303