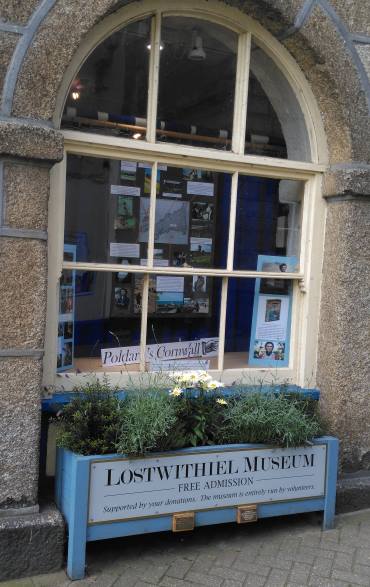 Looking back through the year the museum window displays have showcased some very interesting themes & events which, from comments received, have been much appreciated.
Just as a reminder:
The year started with the ' Ceasefire Football Match ' which took place on Christmas Day in 1914.
This was followed by ' A Spoonful of History ' which looked back at some of the pills, potions & practices prescribed in times past.
A celebration of Lostwithiel's much loved 'Glyn Cinema ' also highlighted significant events of the period.
'Anyone for Tennis' depicted the history of tennis, a timely theme for the Queens & Wimbledon season.
Not surprisingly the 'Poldark's Cornwall'  display has a universal appeal that has attracted masses of attention.
Like the rest of Cornwall, Lostwithiel Museum has also benefited from the so-called 'Poldark  Effect.' Thanks to Deborah Clough who has masterminded the window displays; her inspired ideas & creative skills are very much admired &appreciated.

There's more to look forward to with further displays before the end of the year.